OPELIO
MEDICAL VIDEO RECORDING SYSTEM OPELIO Features and System Specifications
Overview
Features and System Specifications
Simply use your fingertip to record, play, and edit video footage from surgery or tests.The OPELIO system transmit and share video throughout the hospital in real time or on demand.
Operability
High-resolution touch panel enables intuitive recording, playback, and editing.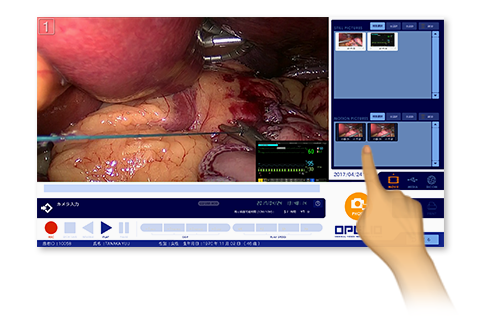 Touch panel operation epitomizes ease of use in clinical settings
The OPELIO system is capable of importing video from surgery or tests, saving them as video or still images, and distributing them to other sites within the hospital. The unique user interface is optimized for touch panel operation, enabling anyone to perform operations such as selecting patient information, recording, playback, extracting still images, simple editing, and data transfer to a server, all done simply with just one finger. Sharp, high-definition images can be utilized in clinical settings without getting in the way of medical procedures.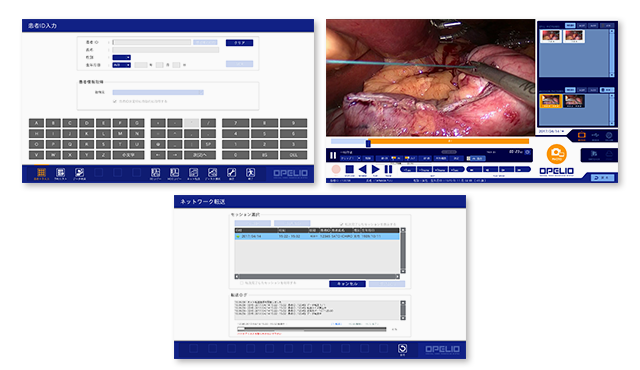 Expandability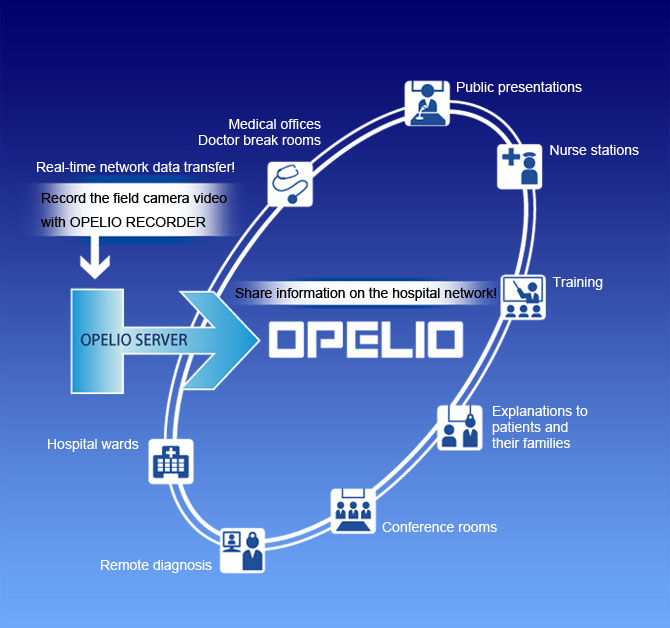 View in real time via web browser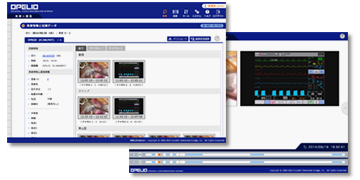 Video from surgery taking place in an operating room can be viewed in real time via a PC web browser on the hospital network. Of course, video data already saved on a server can be searched using a web browser and viewed, edited, or downloaded. In addition to making medical treatment clear and understandable by providing visual information to patients and their families, these functions can also be used for training and research applications.
Seamless connection with various hospital information systems
The system can connect with hospital information systems such as HIS/PACS and anesthesia management systems. In addition to acquiring patient information, it is also possible to connect with a wide range of medical information such as surgical appointments, user accounts/passwords, clinical departments, and surgical procedures. Accessing videos from other hospital systems is also simple and smooth.
Features
Simple Operation

Intuitive navigation optimized for touch panel operation, so you won't have to use a manual

Simple Editing Function

Simple editing on recorder, web-based simple editing

No License Required

No client license required, web access, free player

Video Transmission

Real-time transmission, on-demand transmission, downloading, downloading with video format conversion

High-Definition Support

High resolution, compatible with full HD (1,920 x 1,080), 2 channels simultaneous input, simultaneous recording

Connects to Hospital Information Systems

HIS/RIS connectivity, anesthesia management system connectivity, compatible with DICOM transmission, viewer connectivity

Security

Account management, restricted access from PCs, anonymous display of patient information, download restrictions

Wide-Ranging Extendibility

Redundant construction of server, storage expansion, backup

Long-term Storage

High-volume storage compatibility, capacity expansion, automatic recompression, automatic deletion
Specifications
1ch model
2ch model
Input
3G-SDI IN (Note 1)
x1 LEVEL A
(Embedded audio supported)
x2 LEVEL A
(Embedded audio supported)
HDMI IN (Note 1)
x1
(Embedded audio supported)
x2
(Embedded audio supported)
Output
RGB OUT
x1
HDMI OUT
x1
Display Port OUT
x1
Audio OUT
x1 (Stereo mini jack)
Other
peripherals
USB3.0
x6 (front 2, back 4)
Network
RJ45x2 (1000BASE-T)
External device control
x2 (RS-232C, Male)
Internal HDD
500 GB
System storage
Flash memory
Input video type (Note 2)
1080/60p, 1080/30p, 1080/60i, 720/60p
Encode
32 kbps - 12 Mbps
Video format
H.264
Streaming
Streaming protocol
RTSP / RTP
Transmission mode
Unicast / Multicast
Protocol
UDP / TCP
Number of concurrent streams (Note 3)
Up to 3 streams for 1 video input channel
Resolution
Full HD (1080p) / HD (720p) / SD (640x360)
OS
Linux
Power source
100 V - 240 V
Maximum power consumption
300 W
Operating temperature
0 - 50 ℃ (No condensation)
Size
259 (W) x 84.1 (H) x 259 (D) mm
Weight
approx. 4.6 kg
Accessory
Power cable
Option

Barcode reader,

Magnetic card reader,

Foot switch,




SD card reader,

Blu-ray drive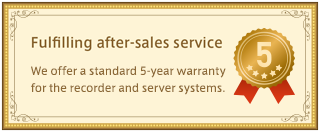 Note 1:
3G-SDI and HDMI are used exclusively.
Expandable with additional plus-channel options.
Note 2:
Common for SDI and HDMI.
Note 3:
Streaming bit rate can be individually set.
---
The contents are valid as of February 2022.
Please note that specifications, performance and technical data of the products are subject to change without prior notice.
"OPELIO" is either trademarks or registered trademarks of Seventh Dimension Design, Inc.
Other company and product names are trademarks or registered trademarks of the respective companies.