OPELIO one
OPELIO one makes it possible to manage and browse through your stored videos with ease. Main Features of the OPELIO one Recorder Main Features of the OPELIO one Server OPELIO one System Specifications
Overview
Recorder
Server
Specifications
Maximize the Management and Utilization of Medical Video
Handy all-in-one system equipped with built-in recording, streaming, and database searching. Dramatically improve how you make use of medical videos.
A single unified database for all medical videos and still images. Manage and utilize with ease.

Intuitive operation - access, play, and edit videos through Web browser.

Many unique recorder and server configurations possible, from a Single-Recorder configuration to a Large Capacity Storage Server configuration.

Various valuable high-demand functions, including multi-viewer livestreaming and DICOM transmission.
The OPELIO one provides a solution for all medical recording needs in a single system that offers the highest value and performance.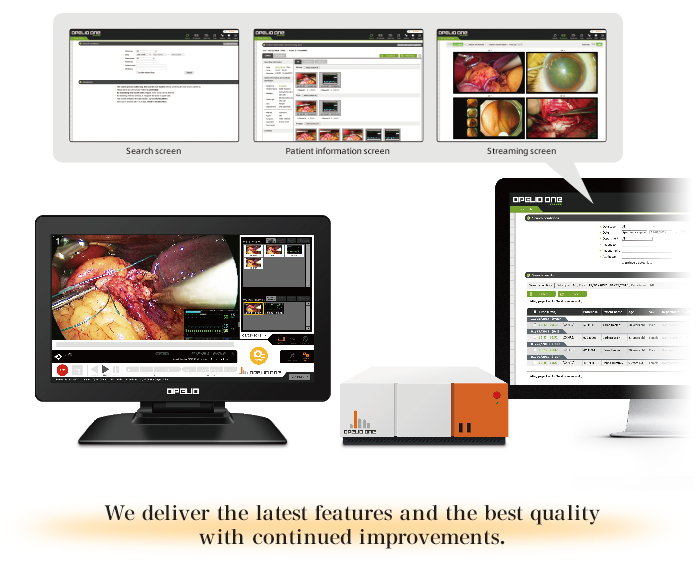 OPELIO one System Configuration

The OPELIO one is a recorder that records, plays and edits video, coupled with a small server that accumulates and distributes recorded data. The OPELIO one can be set to specify the number of video sources required, the recording time and the retention period. It is a complete product that can respond flexibly to your needs.
OPELIO one Recorder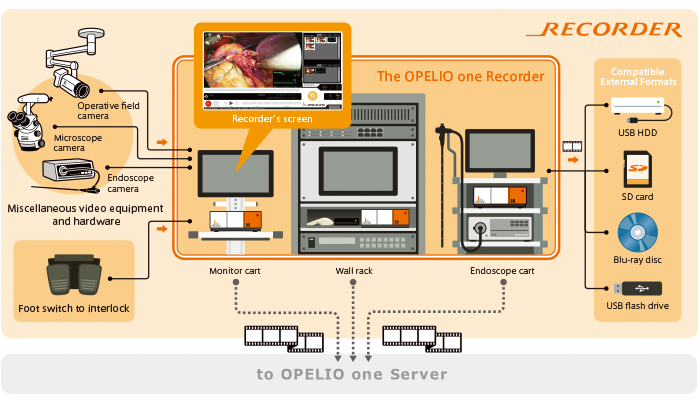 Simultaneous Two Channel Recording
The OPELIO one Recorder can record two channels of high definition video simultaneously. Each recorded video can easily be accessed and viewed as the separate fiiles.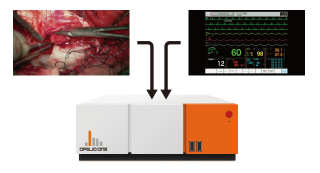 ---
Simultaneous HD and SD or 2D and 3D Recording
The OPELIO one Recorder can record both high definition video for higher image quality and standard definition video for longer video footage simultaneously. The device can also simultaneously record 3D and 2D video.
---
Flexibly Record Video
The OPELIO one Recorder can record video simultaneously to an internal HDD and to an external USB HDD, allowing the user to remove their USB immediately with the files readily saved on their external device just after the operation or examination.
---
High Speed USB 3.0 Copying
After recording, the user can select and copy any video and still image on the internal HDD to the USB HDD. The OPELIO one Recorder is compatible with high speed USB 3.0 devices.
---
User-Friendly Touch Panel Operation
The OPELIO one Recorder's sophisticated yet user-friendly touch panel allows for any user to intuitively learn and manage the device like a professional from day one. No bulky manuals are required to master our tried and tested touch panel user interface.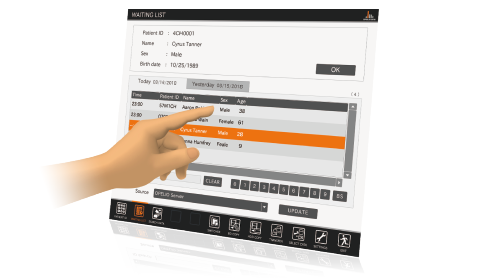 ---
Quick Play Back Feature
Create quick play backs during live recording, with a dedicated play back feature that will help the user mark important clips. This feature is particulary suitable for videofluoroscopic examination recordings.
---
Choose Between Full and Compact Touch Panels
The OPELIO one Recorder offers the standard 15-inch Full HD touch panel and the compact 10-inch touch panel, for work environments with limited installation space.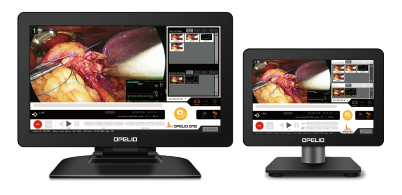 Optional Features
DICOM Compliance
The OPELIO one Recorder can transmit saved images to PACS. It also supports DICOM Q/R and MWM, allowing it to read and access patient information and order information.
Video Switcher Control (Note 1)
The OPELIO one Recorder can control a third-party video switcher, based on the user's input on the touch panel monitor via the user friendly GUI instead of matrix switching buttons.
HD-SDI Model
The OPELIO one Recorder is also available as a SDI direct connection model. This model can directly receive a SDI video signal from endoscopes and surgical microscopes without the use of a third-party signal converter.
Trigger Interlocking (Note 2)
The OPELIO one Recorder can function with a variety of external triggers, including an endoscope's hand controller and a fluoroscopic foot-switch, allowing the user to record videos and extract images with their hands or feet.
Barcode and Magnetic Card Reader
The OPELIO one Recorder can fully read standard magnetic cards and bar codes, allowing it to quickly process a patient's details, including their ID, name, sex, and birthdate. Wireless readers are also available.
External Foot Switch
The foot switch can remotely control the OPELIO one Recorder. Pedal motions allow the user to start and stop recording, cut video clips, and extract images. Various models are available, including the wireless models.
Note 1: Various switchers are supported. Please contact us for our list of compatible models.
Note 2: Some triggers are not supported.
OPELIO one Server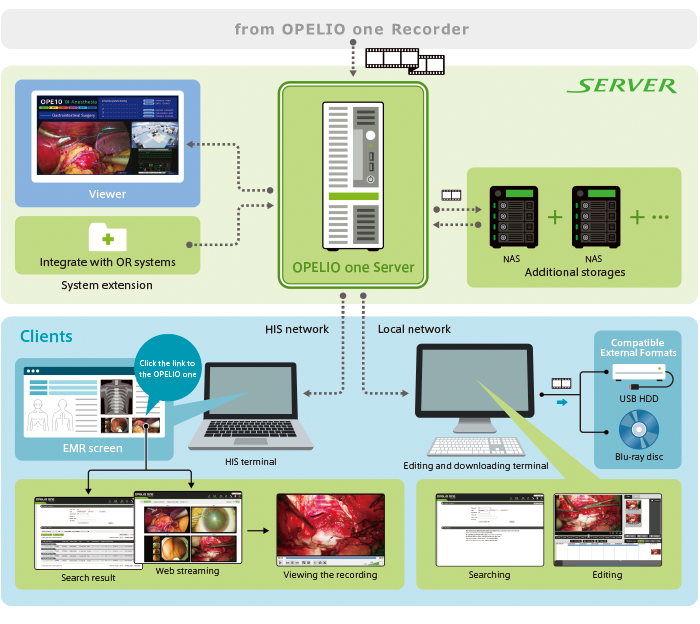 Web Browser Accessibility
Use any standard web browser to quickly search, view and download any video or image, or partial video marked as clip saved on the OPELIO one Server, with no additional software necessary.
---
HD Live Streaming
Access the OPELIO one Server live stream with any web browser. Play and watch the live stream in full HD in real-time from anywhere.
---
Clip Editing
Edit and download videos and images saved on the OPELIO one Server through the web browser. The platform offers intuitive editing tools, allowing any user to edit, add, and remove videos and images.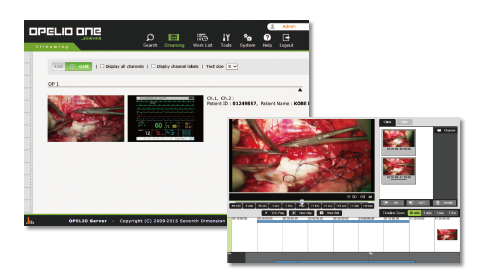 ---
Restriction Settings
Set restrictions for certain accounts, adjusting which users can access the server, view certain files, and edit and download the stored data associated with each department. Restriction settings can be set for each unique user and for individual terminals.
---
Smart Downloading
Download files individually or as a group of your choice. The videos can be saved as MTS and MP4; images can be saved as JPEG, BMP, and PNG.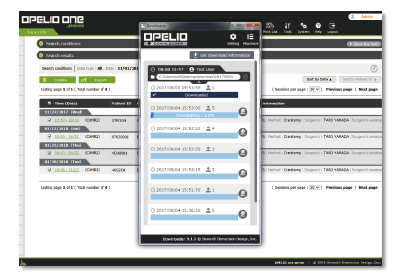 ---
Log File Management
The OPELIO one Server keeps a log of the activity of all users on your system. The server's administrators can view and download the logs, to access all login and browsing history.
---
C5/C10
(Two Types of Servers Available)
The OPELIO one Server comes in two types: the C5 and the C10. The C5 supports up to 5 channels of receivable video signals, and the C10 supports up to 10 channels. C5 users who require more channels may opt to upgrade their server.
Optional Features
Simple Extension of Data Storage Area
Even after the server has begun operations, adding additional storage to your OPELIO one Server is made easy by simply acquiring NAS. Users may also opt to back up their data to NAS.
Upgrade to OPELIO
Since OPELIO one and OPELIO are compatible, users who require more customization may upgrade their OPELIO one system in a smooth manner.
Retrieving Patient/Operation Information
The OPELIO one works with third-party databases of patient and operation information. This cuts a great deal of set-up time for each patient and reduces the risk of human error.
Link from the Hospital System
OPELIO one's video can be accessed by a third-party terminal. It also allows for multiple terminals around the medical facility to search its database and join its live stream.
Extended Warranty Package (Domestic)
The hardware extended warranty plan allows users to have a maximum warranty of 5 years for the OPELIO one devices. We offer Next Day On-Site Support for inspection and maintenance.
Remote Maintenance Support (Domestic)
Our support staff can check and monitor the OPELIO one's server status from our remote support office. This allows for prompt response and regular hardware diagnosis.
Specifications
OPELIO one Recorder (Main Unit)

SDI model
HDMI model
External form
221.5 (W) x 84.1 (H) x 298 (D) mm (excluding rubber foot)
Weight
approx. 4.9 kg
Electric power consumption
AC 100V, approx. 205 W (max.)
Video input and output terminal (Note 1)
SDI IN x 2, SDI OUT x 2
HDMI IN x 2, HDMI OUT x 2
Interfaces
USB 3.0 x 6 (back panel x 4 / side x 2), USB 2.0 x 2 (front panel x 2), RS232C x 2, HDMI x 1, VGA x 1, DP x 1, 1000Base T x 2, AUDIO IN x 1, AUDIO OUT x 1, MIC x 1
Output format
video: 1920 x 1080 (p/i), 720x 480 Pixel H.264
still image: 1920 x 1080, 640 x 480 Pixel JPEG / BMP / PNG / TIFF
Internal storage
500 GB
DICOM specification
Verification Service Class (SCU), Storage Service Class (SCU),
Query / Retrieve Service Class (SCU), Modality Worklist
Accessories
AC power cable (1.8 m), Key for HDD slot
Optional equipment (Note 2)
Barcode reader, Magnetic card reader, Foot switch,
SD card reader, Blu-ray disc drive

OPELIO one Recorder (Touch Panel)

15 inch
10 inch
External form
with stand:
387 (W) x 285 (H) x 199 (D) mm
without stand:
387 (W) x 244 (H) x 33 (D) mm
with stand:
255 (W) x 177 (H) x 200 (D) mm
without stand:
255 (W) x 177 (H) x 29 (D) mm
Weight
with stand: approx. 3.0 kg
without stand: approx. 1.5 kg
with stand: approx. 2.3 kg
without stand: approx. 0.8 kg
Resolution
1920 dots (H) x 1080 lines (V)
1280 dots (H) x 800 lines (V)
Touch panel technology
Projected Capacitive
Touch interface
USB type-B
Video signal
Analog: Mini VGA / Digital: HDMI type A
Power supply
AC 100V 50/60 Hz
Electric power consumption
approx. 36 W
approx. 24 W
Accessories
AC adapter (1.8 m), Mini VGA cable (1.8 m), HDMI cable (1.8 m), USB cable (1.8 m), Audio cable (1.8 m), CD-ROM, 2 cable clamps, 2 tie wraps, 5 M3 screws

OPELIO one Server (Main Unit)

OPELIO one Server C5
OPELIO one Server C10
External form
98 (W) x 386.5 (H) x 341 (D) mm (excluding stabilizer and protuberance)
Weight
approx. 11.5 kg (max)
Electric power consumption
approx. 195 W (max.)
approx. 224 W (max.)
Number of recorder connections
Max 5 recorders (5 sources)
Max 10 recorders (10 sources)
Internal storage
500GB x 4 units (RAID 6)
1TB x 4 units (RAID6)
Effective capacity
approx. 1TB (including system area)
approx. 2TB (including system area)
Video recording capacity (Note 3)
approx. 200 hours (at 10 Mbps)
approx. 400 hours (at 10 Mbps)
Optional equipment (Note 2)
UPS (750 VA), NAS (6 TB, 12 TB, 18TB, 24TB, 36TB, 48TB)

Recommended specifications for PC (Note 4)

Windows
Mac
OS
Windows 7 or later
OS X 10.10.5 or later
Browsers
IE 9 or later
Safari 10 or later
CPU
Core i3 or higher
Memory
2GB or more
HDD
500GB or more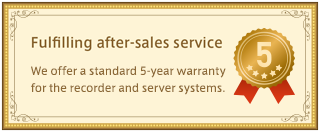 Note 1: It can also support DVI, SDI, composite, and more with a video converter.
Note 2: Please contact us for further details of compatible equipment.
Note 3: It is possible to increase the storage capacity by connecting the NAS.
Note 4: Interaction with other software depends on version of client. Please contact us for more details on the supported other software.
Please note that specifications, performance and technical data of the products are subject to change without prior notice.
"OPELIO" and "OPELIO one" are either trademarks or registered trademarks of Seventh Dimension Design, Inc.
Other company and product names are trademarks or registered trademarks of the respective companies.